Season 2021 — It's ON!
It's time to
laugh

and

sing

again!
We're getting on with the show and bringing you five fabulous Fall shows featuring some of your favourite performers like Marshall Button, Aaron Solomon and Leisa Way. We'll also be making a few changes to put all the protocols in place so you can enjoy our shows safely. Due to the shorter season and social distancing, and until we can return to our usual format, we'll have fewer available seats, a different seating plan, single-priced tickets instead of flex passes and a self-screening check at the door. But one thing that won't change is the Playhouse Experience.
When the lights come up on our stage you'll enjoy the laughter and music like never before! The Playhouse returns! September 7 to December 19 — be part of it!
"My friend and myself were in attendance at opening night of Johnny and June.  We were very impressed and felt totally safe with all your planning and covid protocols in place.  The show was excellent and the performers, musicians and lighting were so well done.  Thanks for the first-class entertainment."
M. Taylor
"We would like to say how impressed we were with the whole experience - from being signed-in, to leaving after the performance. Playhouse staff should be highly commended for the work done to make attending a play a safe and great experience."
M. & B. Lake
Important Notice
As of September 22, proof of vaccination (along with a photo ID, such as driver's license or health card) will be required for admission to Upper Canada Playhouse. If you do not have proof of immunization already, you can obtain it by downloading or printing your vaccine receipt from the provincial booking portal at the following link:
https://covid-19.ontario.ca/covid-19-vaccine-booking-support#proof-of-vaccination
or by calling the Provincial Vaccine Booking Line at 1-833-943-3900. As always, masks are required in the theatre at all times.
Individuals who cannot receive the vaccine due to medical exemptions will be permitted entry with a doctor's note (along with photo ID) until recognized medical exemptions can be integrated as part of a digital vaccine certificate. Children who are 11 years of age and younger and unable to be vaccinated will also be exempted from these requirements. Regardless of vaccination status, masks are always required in the theatre at all times.
Seating Capacity Update
Although the Government of Ontario has removed capacity limits and social distancing requirements for seating in theatres where proof of vaccination is required, The Playhouse will only increase their number of seats to operate at 50% capacity in order to continue to provide distancing between groups. Proof of vaccination and ID, masks, screening and contact tracing are still required. These additional seats will be available for sale starting October 18.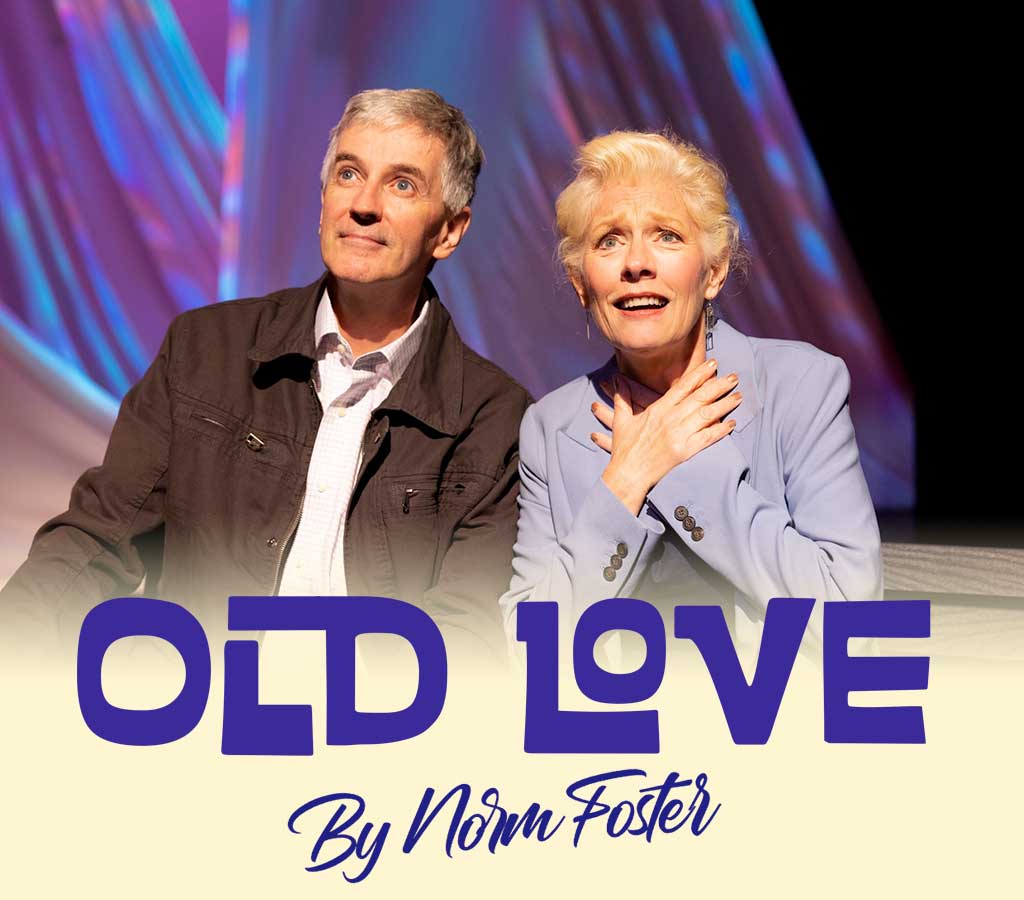 OLD LOVE
Starring Brian Young & Melanie Janzen
September 23 - October 30
Sparkling comedy by Canada's favourite playwright! He's recently divorced. She's newly widowed. At her husband's funeral, an old acquaintance emerges to pay his respects, leading to a re‑awakening of forgotten emotions. A story of romance, courtship and relationships between older adults.
'Old Love: best love at Upper Canada Playhouse'
'..rollicking, witty and sometimes deeply moving comedy. We often find ourselves roaring with laughter. Old Love assures us all that there is no age limit on dreams. There is no age limit on love.'
Morrisburg Leader
'Old Love is the perfect show to mark return of live theatre!' Dockside magazine / OrilliaMatters.ca
'Filled with hilarious situations, punchy dialogue, poignant drama and endearing characters. A perfect show to see with someone you're sweet on, whether your love is young or old!' Kawartha Now
"Old Love" Performance Schedule
Thu Sep 23 8pm Preview
Fri Sep 24 8pm Opening
Sun Sep 26 2pm
Tue Sep 28 2pm
Wed Sep 29 2pm
Thu Sep 30 2pm Added!
Thu Sep 30 8pm
Fri Oct 1 8pm
Sat Oct 2 2pm
Sat Oct 2 8pm Added!
Sun Oct 3 2pm
Tue Oct 5 2pm
Wed Oct 6 2pm
Thu Oct 7 2pm Added!
Thu Oct 7 8pm
Fri Oct 8 8pm
Sat Oct 9 2pm
Sat Oct 9 8pm Added!
Sun Oct 10 2pm
Tue Oct 12 2pm
Wed Oct 13 2pm
Thu Oct 14 2pm Added!
Thu Oct 14 8pm
Fri Oct 15 8pm
Sat Oct 16 2pm
Sat Oct 16 8pm Added!
Sun Oct 17 2pm
Tue Oct 19 2pm
Wed Oct 20 2pm
Thu Oct 21 2pm Added!
Thu Oct 21 8pm
Fri Oct 22 8pm
Sat Oct 23 2pm
Sat Oct 23 8pm Added!
Sun Oct 24 2pm
Tue Oct 26 2pm
Wed Oct 27 2pm
Thu Oct 28 2pm Added!
Thu Oct 28 8pm
Fri Oct 29 8pm
Sat Oct 30 2pm Closing
Casting Update
Due to a health condition, Norm Foster will not be able to join us for the run of Old Love at Upper Canada Playhouse, as previously announced. The condition is not Covid-related and he will soon be back to good health and in front of audiences for future seasons.
Old Love is a joint production between Orillia Opera House and Upper Canada Playhouse. Audience-favourite Brian Young played the role in the first leg of the show which closed last week and we're pleased to have Brian continue his terrific work in this play.
Leisa Way Starring in
Sweet Dreams:
The Music of Patsy Cline
November 2-14
Fabulous live tribute concert of hits from the legendary country singer starring Leisa Way backed by the Wayward Wind Band.
'A powerhouse of a singer and entertainer. She dominates the stage, filling every corner of the theatre with her rich, vibrant voice. If ever an actor could be said to be 'channeling' Patsy Cline, it is unquestionably Leisa Way!'
"The Music of Patsy Cline" Performance Schedule
Tue Nov 2 8pm Opening
Wed Nov 3 2pm
Thu Nov 4 2pm & 8pm
Fri Nov 5 8pm
Sat Nov 6 2pm & 8pm
Sun Nov 7 2pm
Tue Nov 9 2pm
Wed Nov 10 2pm
Thu Nov 11 2pm & 8pm
Fri Nov 12 8pm
Sat Nov 13 2pm & 8pm
Sun Nov 14 2pm Closing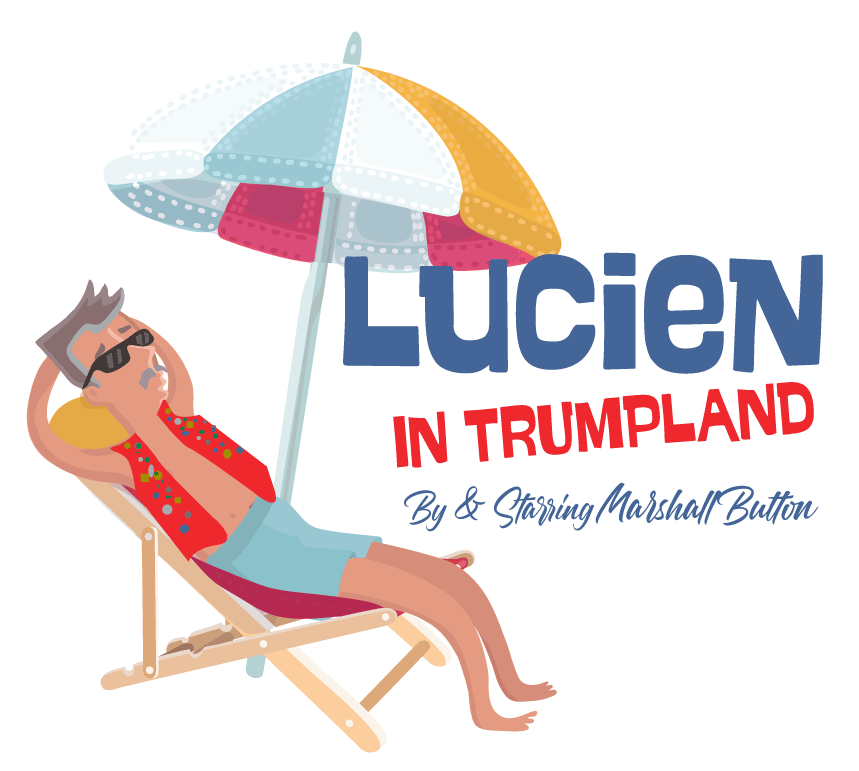 LUCIEN IN TRUMPLAND
By & Starring Marshall Button
November 16 - 28
Bad timing on the beach! As COVID life begins to normalize and vaccinations roll into high gear, Lucien has a chance meeting on the beach with his old friend-the Young Fella. He recounts tales of his first time outside Canada and his ill-fated drive to Florida involving a stop-over in Washington during the storming of the Capitol!
'Button as Lucien is a cultural icon & is a kind of gift from Button to the rest of the country, an Acadian blessing of laughter and perspective and from the heart wisdom. Lucien has become a Canadian cultural icon.' Ottawa Citizen
"Lucien in Trumpland" Performance Schedule
Tue Nov 16 2pm Added!
Tue Nov 16 8pm Opening
Wed Nov 17 2pm
Thu Nov 18 2pm & 8pm
Fri Nov 19 8pm
Sat Nov 20 2pm & 8pm
Sun Nov 21 2pm
Tue Nov 23 2pm & 8pm Added!
Wed Nov 24 2pm
Thu Nov 25 2pm & 8pm
Fri Nov 26 8pm
Sat Nov 27 2pm & 8pm
Sun Nov 28 2pm Closing
Rockin' Around the Christmas Tree
by and starring Leisa Way
November 30 - December 19
Brand new Christmas concert guaranteed to bring the joys of the season to you, your friends and family! Enjoy a cavalcade of your favourite traditional and current Yuletide songs sprinkled with a dose of comedy, stories and visits from some popular Christmas characters.
'Leisa Way and her band do it again: they bring the best show to the stage you could wish for with this dazzling concert of Christmas songs and fun'. Orangeville Citizen
'
"Rockn' Around the Christmas Tree" Performance Schedule
Tue Nov 30 8pm Opening
Wed Dec 1 8pm
Thu Dec 2 2pm & 8pm
Fri Dec 3 8pm
Sat Dec 4 2pm & 8pm
Sun Dec 5 2pm
Tue Dec 7 2pm
Wed Dec 8 2pm
Thu Dec 9 2pm & 8pm
Fri Dec 10 8pm
Sat Dec 11 2pm & 8pm
Sun Dec 12 2pm
Tue Dec 14 2pm
Wed Dec 15 2pm
Thu Dec 16 2pm & 8pm
Fri Dec 17 8pm
Sat Dec 18 2pm & 8pm
Sun Dec 19 2pm Closing