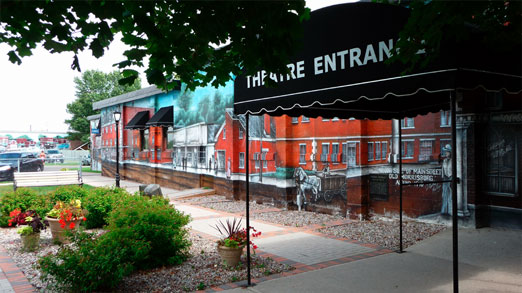 Upper Canada Playhouse is one of Eastern Ontario's most successful professional theatre companies, with over 3 decades of operation. The Playhouse is located in a former Toothbrush and Argyle Sock Factory, converted to a charming, intimate, climate-controlled, accessible and totally-equipped theatre with plenty of parking, licensed canteen and state of the art seating where everyone's close to the action.
Located in the quaint Village of Morrisburg, Ontario, on the picturesque St. Lawrence River, the theatre is easily accessible from the 750 Exit of the 401, mid-way between Brockville and Cornwall and in close proximity to Northern New York State and the major centres of Ottawa and Montreal.
The Playhouse was established in 1983 and continues as a charitable non profit organization, governed by a Board of Directors and managed by an Artistic Director and Business Manager. It had its beginnings in a giant tent in the wooded outskirts of the Village before moving to its present home.
The Playhouse season features live concerts Spring & Fall, a 4-show Summer Theatre Series and a Winter Holiday Family Show. It entertains an annual audience of 40,000 from the many rural communities from Ottawa to Cornwall and Brockville to Montreal as well as from these urban centres themselves. It has a thriving tourist and bus tour market which has made it one of the major tourist attractions and economic drivers for the Seaway Valley and Upper Canada Region.
Every season The Playhouse welcomes new audience members who enjoy the unique atmosphere of both the theatre itself and the surrounding area. Upper Canada Playhouse is an ideal destination for touring theatre goers and Tour Groups from such points as Ottawa, Montreal, Kingston, New York State and beyond. An entertaining visit to The Playhouse can be enhanced by a visit to nearby Upper Canada Village, the beautiful Parks of the St. Lawrence and the many nearby motels, bed and breakfasts and campgrounds that the Seaway Valley and Upper Canada Region offer.
A tour of the area's many magnificent historic murals makes for an interesting side-trip starting with a depiction of Old Morrisburg's Pre-Seaway Main Street on The Playhouse building itself.
Upper Canada Playhouse is a member of the Canadian Actors' Equity Assocation, the Professional Association of Canadian Theatres, and the South Dundas Chamber of Commerce.