Season 2021 — It's ON!
It's time to
laugh

and

sing

again!
We're getting on with the show and bringing you five fabulous Fall shows featuring some of your favourite performers like Marshall Button, Aaron Solomon and Leisa Way. We'll also be making a few changes to put all the protocols in place so you can enjoy our shows safely. Due to the shorter season and social distancing, and until we can return to our usual format, we'll have fewer available seats, a different seating plan, single-priced tickets instead of flex passes and a self-screening check at the door. But one thing that won't change is the Playhouse Experience.
When the lights come up on our stage you'll enjoy the laughter and music like never before! The Playhouse returns! September 7 to December 19 — be part of it!
"Quick note to let you know how much we enjoyed Rockin' Round the Christmas Tree yesterday afternoon. In fact it is the best Christmas show we have ever seen. Everything was wonderful about the performance.
I would also like to say on behalf of myself and my husband Bill how much we appreciate the Play House efforts to keep us safe during this Covid time. You have done a tremendous job!!!"
M.L., Russell, Ontario
"On Thursday, December 16th a group of 38 residents of Russell travelled to Morrisburg to see Rockin' Round the Christmas Tree. We had such a good time. The performers were so amazingly talented and Santa was a great addition. We want to express our sincere appreciation to Courtney in the Box Office who endured my numerous telephone calls to get it all sorted out. This is our annual Christmas event and plan on continuing it for many years to come."
Group Booking Organizer
Important Notice
Proof of vaccination (along with a photo ID, such as driver's license or health card) will be required for everyone 12 years of age and up for admission to Upper Canada Playhouse. You can obtain your proof of immunization by downloading or printing your vaccine receipt from the following link:
https://covid-19.ontario.ca/covid-19-vaccine-booking-support#proof-of-vaccination
or by calling the Provincial Vaccine Booking Line at 1-833-943-3900. As always, masks are required in the theatre at all times.
Individuals who cannot receive the vaccine due to medical exemptions will be permitted entry with a doctor's note (along with photo ID) until recognized medical exemptions can be integrated as part of a digital vaccine certificate. Children who are 11 years of age and younger and unable to be vaccinated will also be exempted from these requirements. Regardless of vaccination status, masks are always required in the theatre at all times.
Seating Capacity Update
Although the Government of Ontario has removed capacity limits and social distancing requirements for seating in theatres where proof of vaccination is required, The Playhouse will only increase their number of seats to operate at 50% capacity in order to continue to provide distancing between groups. Proof of vaccination and ID, masks, screening and contact tracing are still required. These additional seats will be available for sale starting October 18.
Rockin' Around the Christmas Tree
by and starring Leisa Way
November 30 - December 19
Brand new Christmas concert guaranteed to bring the joys of the season to you, your friends and family! Enjoy a cavalcade of your favourite traditional and current Yuletide songs sprinkled with a dose of comedy, stories and visits from some popular Christmas characters.
'Leisa Way and her band do it again: they bring the best show to the stage you could wish for with this dazzling concert of Christmas songs and fun'. Orangeville Citizen
"Rockin' Around the Christmas Tree" Performance Schedule
Tue Nov 30 8pm Opening
Wed Dec 1 8pm
Thu Dec 2 2pm & 8pm
Fri Dec 3 8pm
Sat Dec 4 2pm & 8pm
Sun Dec 5 2pm
Tue Dec 7 2pm
Wed Dec 8 2pm
Thu Dec 9 2pm & 8pm
Fri Dec 10 8pm
Sat Dec 11 2pm & 8pm
Sun Dec 12 2pm
Tue Dec 14 2pm
Wed Dec 15 2pm
Thu Dec 16 2pm & 8pm
Fri Dec 17 8pm
Sat Dec 18 2pm & 8pm
Sun Dec 19 2pm Closing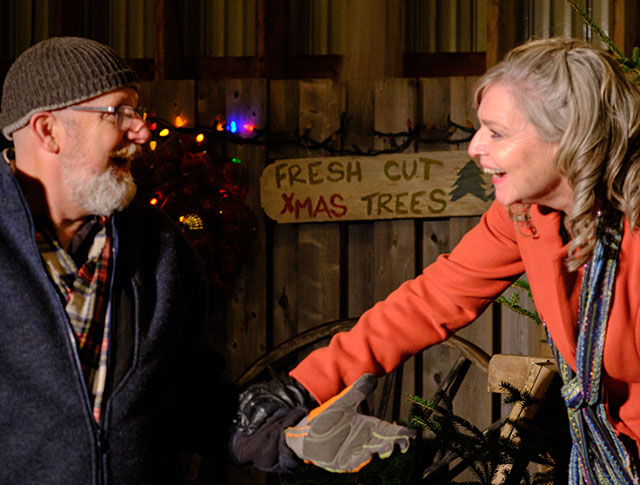 Kate & Scott Veinotte in The Christmas Tree
Please note that all shows of "The Christmas Tree" at Stonecrop Acres on December 18th and 19th have been cancelled.

Performances of "Rockin' Around the Christmas Tree" at Upper Canada Playhouse will proceed as scheduled.
Check out the comedy "The Christmas Tree"
A production at Stonecrop Winery by local theatre company Acting Like Kids.
Proceeds benefit the Playhouse
'Get On With the Show' Fundraiser!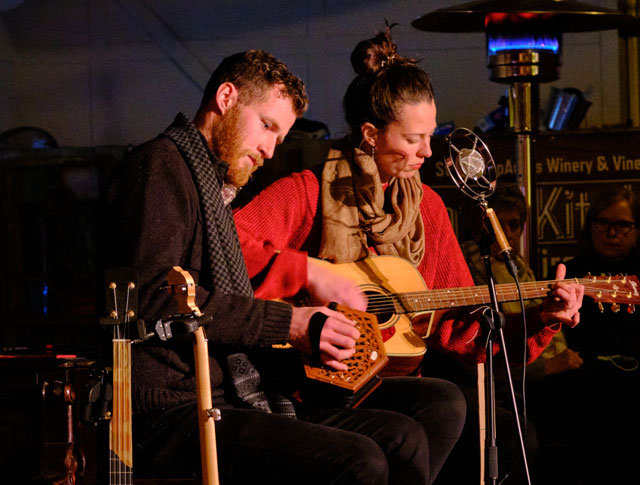 Pre and Post-Show Tunes by "Lost in the Junction"