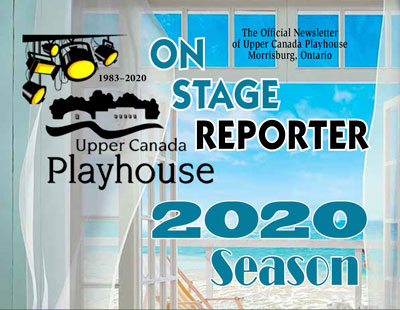 Hot off the press!
For show dates and times, download our Onstage Reporter Newsletter!
Click here to download our 2020 Onstage Reporter Season Announcement PDF!
10 Shows To Enjoy All Year Long!
We will keep you laughing, intrigued & toe-tapping all season long! We have 4 new Summer Comedies, 1 Fall Comedy, 2 new sensational Spring & Fall Concerts & a magical, musical Christmas Show. Plus something NEW! 2 Winter Wild Weekend Concerts in February & March to keep you entertained during those long winter months.
Book a Flex Pass and get a 10% discount to these limited run Winter Concerts. Read on & book tickets to your 2020 Entertainment Destination! Great Shows! Great Place! Great Price!
NEW this year: Wild Weekend Concerts!
Feb 21 – 23
Blue Suede Shoes: Tribute to Elvis Presley
ELVIS is back for 3 shows only!
Fabulous live concert of the greatest hits of the King of Rock 'N' Roll!
Roy LeBlanc returns as Elvis!
POSTPONED!
Sweet Dreams: A Tribute to Patsy Cline
Unfortunately, this concert has been postponed. New dates will be announced soon!
Spring 2020 – April 28 to May 3
REMEMBERING THE
HITS of the 60s & 70s!
A Tribute to The Wrecking Crew
CREATED BY JESSE COLLINS
Fabulous singers and a smoking hot 7-piece band recreate the biggest hits of the 60s and 70s. Ands you'll hear the behind-the-scenes story of The Wrecking Crew, the unsung heroes who were the actual musicians playing the background tracks for these legendary artists' songs when they originally recorded them!
Hear hits by The Beach Boys, Paul Revere and the Raiders, The Carpenters, Simon and Garfunkel, Tina Turner, The Mamas and Papas, The Monkees, Elvis, Frank Sinatra, Dean Martin, The Righteous Brothers, Jan and Dean, Neil Diamond and many more. From the creators of the hit show Dean & Jerry: What Might Have Been.
'A Tribute to the great hits that became the soundtrack of your life and the musicians who helped create them!'
Our Spectacular Summer Season 2020:
Renovations for Six
June 4 – 28, 2020
New Comedy by Norm Foster
Shayna and husband Grant, new manager of a local furniture store, host a dinner party inviting ex-show-biz couple Wing and wife Billie along with psychiatrist, Veronica Dunn-Dudet and her ex engineer husband, Maurice. The three couples are undergoing house renovations and could use a little fix-up in their relationships too! All hell breaks loose at the dinner party in this fast-paced comedy as secrets are revealed and cultures clash. 
'One of the funniest and most ingenious plays by Canada's most produced playwright I have yet seen.' Stage Door
Sugar Road
July 9 – Aug 2, 2020
Country Comedy by Kristen Da Silva
Hannah runs the family amusement park in the small Ontario town of Elmvale. She tries to resurrect their Spurs & Hearts Festival by booking country star Jesse Emberley who performed at the park years ago when he started out. Their lives are about to intersect again after the night they shared beneath the stars years ago. When friends Caroline and Ray get involved, laughter, romance and heart kick in, making their encounter very different this time!
'If you are a fan of country and everything that goes along with it, then why haven't you bought your ticket yet? This show was written just for you!' Kawartha Now
Ned Durango Comes to Big Oak
Aug 6 – 30, 2020
Classic Comedy by Norm Foster
Hilarity and small town politics erupt at the Crossroads Café, where owner and wanna-be hockey star Tom Shaw and helper Orson struggle to make ends meet in the little Canadian town of Big Oak. Mayor Catherine Wilson tries to boost the town's fortunes by inviting builders of a new theme park to their annual Tomato Queen parade and laughter kicks into gear when they bring in aging TV cowboy Ned Durango to lead it. One of Foster's funniest plays that was even turned into a musical. You'll see the hilarious non-musical version that inspired it! 
'These characters make Big Oak a place you'll want to visit. In fact, you probably have visited a place like this!' BC Local News
Move Over, Mrs. Markham
Sept 10 – Oct 4, 2020
Hilarious Comedy by Ray Cooney & John Chapman
Though the Markham's run a book publishing company on the ground floor, it's really their upstairs flat that's never been busier or funnier! As well as the hilarious cast of characters who constantly hide the real reason they're there, in this madcap comedy by the creators of sell-out Playhouse comedies Run For Your Wife and It Runs in the Family! Unaware of each other's plans, three different couples borrow the flat for a secret rendezvous —at the same time! Comic chaos ensues, especially when a famous unsuspecting children's author arrives to have her "Bow Wow" books published.
'A slick, frantic riot!' The People
FALL 2020
Oct 13 – 18
20-20 Rear Vision
with Jimmy the Janitor & Lucien
Just when you thought it was safe to go back to the theatre without bursting into laughter, Atlantic Canada's favourite comedy duo are back! Lucien & Jimmy the Janitor look into the rear view mirror of the past 20 years and imagine a world without smart phones & stupid politicians!
Oct 20-25
The Highwaymen
On the Road Again
created by Chris McHarge
Biggest Hits of Willie, Waylon, Johnny & Kris!
Powerful live concert of music by The Highwaymen — the American Country Music Super-group of Johnny Cash, Waylon Jennings, Willie Nelson & Kris Kristofferson. Don't miss the greatest hits from four of Country Music's biggest legends performed by a sensational 9-piece band. By the creator of last year's smash hit concert, Glory Days!
CHRISTMAS 2020
December 3 – 20
Public & School Shows
A Christmas Carol
Scrooge's journey discovering the true meaning of Christmas unfolds in a musical & magical production on an exciting revolving stage. Featuring a fabulous cast of actors, singers & dancers, Dickens' legendary characters of Tiny Tim, Fezziwig, the Cratchits, Jacob Marley & the Ghosts of Christmas come alive with joyful song, dance & special effects. It all culminates in a fabulous concert of your favourite Christmas songs by the cast and a local community choir. A wonderful addition to everyone's Christmas!
'A perfect family outing!' Mississauga News.