Book by Phone:
(613) 543-3713 or 1 (877) 550-3650
Book by Email:
October 11–14
Created by Jesse Collins
Thu Oct 11 2pm
Thu Oct 11 8pm – JUST ADDED!
Fri Oct 12 2pm & 8 pm – O
Sat Oct 13 2 pm & 8 pm – CS
Sun Oct 14 2 pm C
LEGEND: EB = Early Bird; O = Opening; C = Closing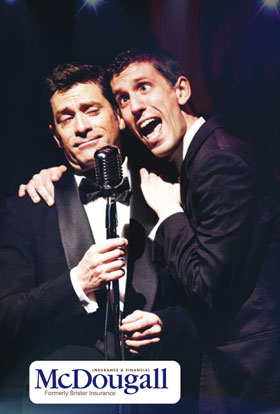 Sagittis scelerisque nulla cursus in enim consectetur quam. Dictum urna sed consectetur neque tristique pellentesque. Blandit amet, sed aenean erat arcu morbi.
A Concert Presentation starring Derek Marshall and Nicholas Arnold
ADDED SHOW: Thursday, Oct. 11 – 2pm Matinee!
ADDED SHOW: Thursday, Oct. 11 – 8pm – Just added!
Derek Marshall and Nicholas Arnold present a fabulous concert of hits and comedy. With their own brand of wacky humour they pay tribute to the comedy team that dominated television, radio and nightclub stages in the 1950s with timeless hits such as Everybody Loves Somebody, Sway, You're Nobody 'Til Somebody Loves You, Volaré, That's Amore, Return To Me, Standing on the Corner, Memories Are Made of This, You'll Never Walk Alone and Jerry's #1 hit, Rockabye Your Baby with a Dixie Melody. The comedy shtick and story-telling of these two terrific entertainers will take you through the real-life story that begs the question 'what if they had never split?' Back by popular demand after a sold out first run. Limited engagement so book early.
[ngg src="galleries" ids="19″ display="masonry" captions_enabled="1″ captions_display_description="0″]