Book by Phone:
(613) 543-3713 or 1 (877) 550-3650
Book by Email:
August 17- September 3
by Norm Foster
Thu Aug 17 7.30pm EB
Fri Aug 18 7.30pm O
Sat Aug 19 2pm & 7.30pm
Sun Aug 20 2pm
Tue Aug 22 2pm
Wed Aug 23 2pm
Thu Aug 24 2pm & 7.30pm
Fri Aug 25 7.30pm
Sat Aug 26 2pm & 7.30pm
Sun Aug 27 2pm
Tue Aug 29 2pm
Wed Aug 30 2pm
Thu Aug 31 2pm & 7.30pm
Fri Sept 1 7.30pm
Sat Sept 2 2pm & 7:30pm
Sun Sep 3 2pm C
LEGEND: EB = Early Bird; O = Opening; C = Closing
Production Sponsor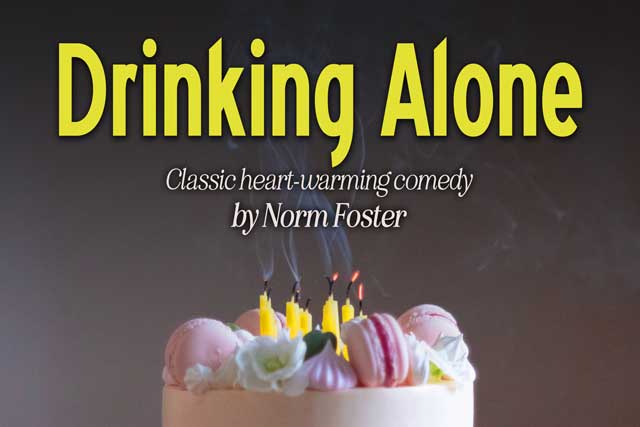 Sagittis scelerisque nulla cursus in enim consectetur quam. Dictum urna sed consectetur neque tristique pellentesque. Blandit amet, sed aenean erat arcu morbi.
When his estranged father pays a visit on his birthday, Joe hires an escort to pose as his fiance to impress his Dad. The laughs, secrets and conflicts soon erupt long before the cake comes out in this classic hilarious and heart-warming Foster comedy about an unforgettable and dysfunctional family reunion.
'If you haven't been to Upper Canada Playhouse to see "Drinking Alone", then I recommend you get your tickets soon. What a show, with laughter from beginning to end! The acting was superb!'

Jim Brownell
'One very tense, and often very hilarious family reunion. The magic of Norm Foster is that he can take create a play that is warm, perceptive and very, very funny. The audience was often roaring with laughter. Drinking Alone is classic Norm Foster- a show that is fun, funny and full of heart'.

Morrisburg Leader
'Saw it today. I highly recommend this one!!!! Especially if you want a bunch of laughs!!!! One of the funniest shows I've seen in a while and an amazing and talented cast'

K. Ray-Stewart
'One of the best, lots of laughs!'

J. Tupper