Book by Phone:
(613) 543-3713 or 1 (877) 550-3650
Book by Email:
June 8 - 25
World Premiere Comedy by Norm Foster
Thu Jun 8 7.30pm EB
Fri Jun 9 7.30pm O
Sat Jun 10 2pm & 7.30pm
Sun Jun 11 2pm
Tue Jun 13 2pm
Wed Jun 14 2pm
Thu Jun 15 2pm & 7.30pm
Fri Jun 16 7.30pm
Sat Jun 17 2pm & 7.30pm
Sun Jun 18 2pm
Tue Jun 20 2pm
Wed Jun 21 2pm
Thu Jun 22 2pm & 7.30pm
Fri Jun 23 7.30pm
Sat Jun 24 2pm & 7.30pm
Sun Jun 25 2pm C
LEGEND: EB = Early Bird; O = Opening; C = Closing
Production Sponsor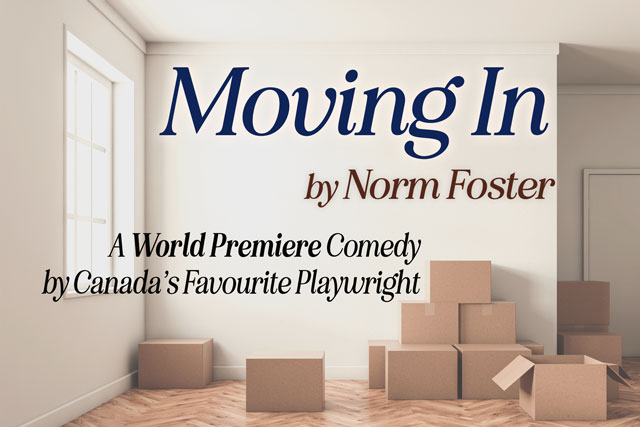 Sagittis scelerisque nulla cursus in enim consectetur quam. Dictum urna sed consectetur neque tristique pellentesque. Blandit amet, sed aenean erat arcu morbi.
Mark and Gretchen, two fifty-something's, have decided to take the plunge and move in together. Mark's thirty-something son Brett, a rock drummer, is going to pitch in and 'help' with the move. Gretchen's grown daughter Rachel, a police officer, has flown a thousand miles to put a stop to her mother's madness.
What can go wrong?
Well, just about everything in this brand-new laughter filled show by Canada's favourite playwright.