The McIntosh Country Inn & Conference Centre
New Menu starting April 15 – with new menu items!
Join us on our Patio opening on the May long weekend!

The McIntosh Country Inn & Conference Centre offers casual relaxed dining in the Orchard Restaurant, featuring:
Friday Night Chinese Buffet,
Saturday Night Prime Rib Buffet,
Our popular Sunday Brunch.
Also, if you preference is more a Pub atmosphere, then join us in Mac's Tavern, or on our outdoor licensed patio. Coverage of major sporting events is always a feature of Mac's.
Some of the Food Features in Mac's are:
Monday Night Steak Night
Friday Night Fajita Night
Thursday & Saturday Wing Nights
Check us out online at www.mcintoshcountryinn.com
You are always welcome at "The Mac", whether it be the Orchard, or Mac's, where:
"Service is the Core of our Business"
---
The New Centennial & The Nest Dining Lounge
A local family-run restaurant located in the Morrisburg Plaza minutes away from Upper Canada Playhouse.
Our menu offers a wide variety of choices and various weekly specials. Our warm atmosphere together with our knowledgeable and friendly staff are happy to satisfy your dining needs.
We have space to accommodate small to large groups and specialize in bus tours.
(613) 543-3722
We welcome you to join us before or after the show.
---
Basket Case Café & Gallery
Our Opening Hours:
Tue – Thu: 9 to 6
Friday: 9 to 7
Saturday: 9 to 6
Sunday: 10 to 5
Sun Brunch Buffet: 10 to 2
Morrisburg Shopping Plaza – (613) 543-0002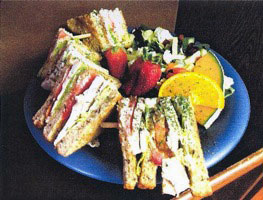 "Home of the Infamous Club Sandwich" (as featured on "Regional Contact")
As a proud sponsor of the Upper Canada Playhouse we look forward to serving you a freshly-prepared meal before or after enjoying a fabulous play.
We are pleased to announce that our menu now includes many items with the wheat-intolerant in mind, including breads, cakes and tourtière. All our soups are prepared without the use of flour.
While having your meal, enjoy paintings, quilts, woodwork and other arts and crafts items by local artists, in addition to antiques and collectibles.
We look forward to making your stay a pleasure!
Carl & Hanna